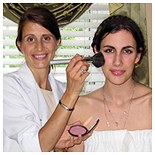 Services

ORGANIC FACIALS



Special:

25% off all Organic Facial

Services for Cancer patients.





Deep Cleansing European Facial


Suited for all skin types this includes your basic facial and massage which stimulate the muscles of the face, neck, decollete and shoulders to increase circulation , The goal of this facial is to bring nutrients and moisture to the skin cells helping to repair skin tissue while providing a healthy appearance. Extracations always included.


$85.00 - 60 min






Rosacea Healing Facial


Sensetive skin will benefit from the applications of the deeply calming masks and treatments. Soothing inflamation and strengthens the skin barrier function to allow maximum relief. This theraputic facial cools skin on contact, instantly alleviates redness ad sensitivity and restores hydration and supplesness.


$99.00 - 60 min






Handmade Hungarian Organic


Go natural the finest in Hungarian Organic skin care. These facials offer a truly exquisite experience. These products are handmade from natural fruits and herbs. Each facial will be createded uniquely for your skin type formulated to treat, repair, protect, and prevent signs of aging. Seasonal facials also available. The scents will please you and the therapeutic effects will convince you.


Begin at $105.00 - 75 min.






Teen Facial


Created for young skin, This facial includes a in depth cleansing to remove inpurities and correct imperfections. This facial also includes a consultation approach to educate teens on how to properly care for their skin. Start teens with a good care regimine that they will continue throughout a lifetime.


$85.00 - 60 min






Collagen Facial


Ultimate hydration plumps up fine lines and wrinkles, For a temporary fix.


$105.00 per session or purchase 5 sessions at $100.00 and




receive 1 session free for our pre-paid package - 1hour




Sessions are to be held 1x per week for 6 weeks






AHA/Paparika Deep Exfoliation Treatment


Glycolic Treatment. This very active treatment is recommended for mature, fatigued, pigmented skin. This treatment is followed up for 6 weeks 1x a week facial not included. Just an intense exfoliation.


$40.00 - 30 min




Or pre-paid package of 6 for $200.00






Shinwa Organic Green Tea Treatment


This Treatment is an excellent detox for the face and body as well. Firm sagging skin with Green Tea Mask while sipping green tea to detox your body and feel the benifits of a a green tea detox foot bath all in this treatment. The Shinwa Green Tea works at three levels to detox your skin, body but also tightens and brightens your face .After just one treatment you will see and feel noticable results.


$105.00






Natural Basic Facial


This Facial has all natural ingredients. No Sulfites and no PBA's.


$55.00 - 60 min






Fountain of Youth Spa Signature Facial


Enjoy all of the benefits of our other facials with added luxuries. Choose from an array of vary treatments with the scents of natural oils infustion as we steam away any imperfections. This treatment includes Cucumber eye treatment to alleviates puffiness and tired eyes, our aromatic rose foot soak, parafin hand treatment, no small detail is overlooked on this treatment!


$120.00 - 75 min






Hungarian Lip Plump Treatment


This is a wonderful add on to any facial. This lip beautifying treatment adds a concervative slight plump appearance and sooths and moisturizes lips in a delicate way.


$30.00 included in facial






Collagen eye treatment


Do you need and extra charge to your eye area. Does the skin under your eyes look dull and lifeless? Then you may want to try this treatment as an add on to your facial. Great for fine lines.


$30.00 included in facial






Facial Consult


One may be interested in a consult before deciding on a facial, With our consults we include skin analysis.


$25.00 - 30 minutes




WAXING SERVICES



Full Face

-

$45.00




Eyebrows

-

$15.00

(waxing only)


Tweezing/Shaping

-

$15.00

(and up)


Upper Lip or Chin

-

$10.00




Full Arms

-

$45.00




Under Arms

-

$20.00




Full Leg and Bikini

-

$75.00

(and up depending on amount of hair)


Men's Chest

-

$45.00

(and up)


Men's Back

-

$55.00

(and up)


Stomach

-

$25.00




HEALTH AND DETOX SERVICES



Foot Detox


This Ionic foot bath is a highly effective way to eliminate toxins, cleanse and balance your body.


$50.00 per session





Cellulite Wrap


Helps to improve cellulite conditions, burns fat cells in fatty tissues, regenerate collagen fibers.


$110.00 - 60 minutes


(Seaweed wraps and all others will be the same fee!)



Ear Candeling


This specific designed candle is used to draw out wax, fungus and impurities from the ear canal.


$30.00 for 30 minute visit





Rain Drop Therapy


A healing aromatherapy massage session, focus is on the back, spinal column, shoulders and feet. A variety of essential oils and towels are used for healting and relaxation.


$90.00 and up for 60 minutes





Clarifying Back Facial


Clears clogged pores to reduce bacteria and breakouts


$75.00 - 60 minutes




BEAUTY CORNER



Eye Lash Tint

-

$50.00



MAKEUP



Bridal Make-up

-

$100.00




Mother of the Bride

-

$55.00




Brides Maids

-

$50.00




Teen Make-up and lesson

-

$50.00




Beautifing Evening Make-over

-

$40.00






If you call us with access to your e-mail address you will be added on to our client list this will make you available for promotional discount rates, free seminars, etc.